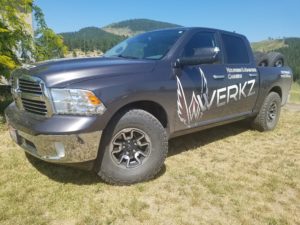 It was time to upgrade the tires on my 2014 Ram 1500.  With 21k miles, the stock tires were looking a little poor, and handled terribly last winter.  Living up a dirt road in Idaho, I wanted to put a more aggressive tire on the truck.
The first question I needed to answer was whether to keep the stock 20″ clad wheels, or go with something different.  After looking at tire prices, I investigated pricing for the 18 and 17 inch wheels on Tire Rack.  I decided that I wanted both the less expensive tire as well as the taller sidewall of a 17″ wheel.
The next question was what wheels I would get to run with the larger tires.  Unfortunately, I didn't see many 17″ wheels that I liked at Tire Rack.  However, when searching Craigslist, I  found a set of Ram Rebel wheels with the Toyo tires that I liked.  I'm a fan of keeping my vehicles driving like stock — the factory engineers work hard to make for a good driving truck, and I don't want to screw it up.  While those wheels sold before I was able to buy them, it gave me something to shoot for.
Earlier this month, I found a set of bare Ram Rebel wheel takeoffs.  I bought them for $500.  Finally, I had the wheels I wanted, but now I needed to determine what tires to run.
After looking at postings on Ramforumz.com and other sites, it appeared that the 315/70r17 tires (which are 34.5 inches tall) would fit on the truck.  It wasn't clear whether a lift was needed for these to fit, many seemed to run the Bilstein front shocks with the front lift they provide.  As a result, I was thinking that the best course would be to run the Bilsteins with the 315/70r17 tires.
I called 4 Wheel Parts in Boise to find what my options would be for the 17″ wheels I had.  I priced the Goodyear Wrangler Duratrac and the BF Goodrich A/T KO2 tires.  Apparently, 4WP had a great bulk buy on 315/70r17 tires from BF Goodrich, so I went with them.  The tires were under $200 each!
After a few issues working with 4 Wheel Parts (separate review to be published later), they found a note that they couldn't use the Bilstein lift with the stock control arms.  I didn't have the Zone Control Arm solution installed, so it meant that they would only install at the stock height.  They offered to go with smaller tires, but I opted to stay with the 315s.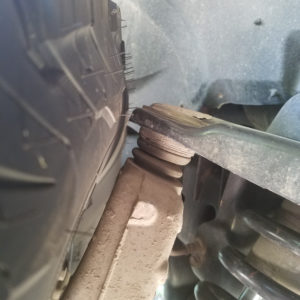 When picking up the truck, I was a bit worried about rubbing issues.  However, after 500+ miles, including some time on logging trails here in Idaho. I have had minimal rubbing.  The only time I get rubbing is when backing in to where I park.  A left turn while dropping the right front down a hill results in minor rubbing on the inner finder on the driver's side.  I have noticed lower gas mileage and a bit slower acceleration.  Handling isn't as sharp, but to be honest the ride is better.  Road manners are just as good as stock; it doesn't pull in the ruts, and my wife still enjoys driving the truck.  That's something.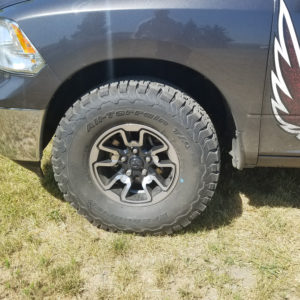 So, what's the lesson?  If you want 315/70r17 tires on your 4th gen Ram,  you can put them on at stock ride height.  i admit that this is tire specific, but I suspect it will work with most tire models.  This achieved my goals of having better off-road capability (did I mention these tires have the severe snow snowflake) plus a more aggressive look.
Will I eventually replace the control arms and lift the truck using the built-in capability of the Bilsteins?  At this point, I don't think so.  The truck just drives so good with the 315s and it's got a great look.  There is minimal rubbing.  I just don't feel the need to lift it.
So… if you're looking to get bigger tires for your Ram, but don't want to lift it… I believe you can.