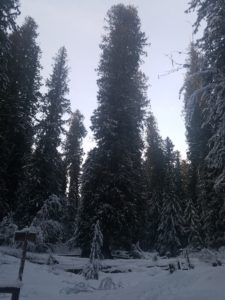 On a cold December Sunday, we decided to go see it.  Yep, we were finally going to see the giant cedar in Idaho.  If you never knew there was such a thing, then read on…
Apparently, there is a cedar grove with a Giant Western Red Cedar not a terribly long drive from our house.  Not sure what to expect, we loaded up the 4runner with self recovery gear and some extra food and headed out for the adventure of it.
We headed to the town of Elk River, then turned North.  The roads weren't bad because winter has been mild.  We followed the maps using a pin I had dropped on Maps.me at 46.888958, -116.12997 for the turnoff from Forest Service 382 Road.  It turns out that the roads were fairly well marked, but I was happy to have the GPS anyway.
As we climbed, the scenery became more beautiful, and the snow and ice started to get thicker.  The stream we followed was a living ice sculpture, and the trees were laden with snow — straight out of a Christmas movie.
We found our cutoff, and followed the road.  It brought us right to the trailhead, which I had marked at 46.886949, -116.12156.  Given the late hour (about 3pm on a winter Sunday), it was not surprising that we were the only ones there.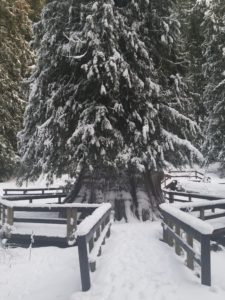 We walked down the snowy path, one part of which was covered by a large tree that had fallen into another, and both were suspended above us as an eerie lumber guillotine.  It was amazing that both were still suspended in an X fifty feet above our heads.  A little further and found the cedar grove.  According to the sign by the tree, this giant is over 18 feet in diameter at chest height, and it is estimated to be more then 3000 years old.  It was alive when Christ walked the earth!  Standing beside and underneath it, we found it difficult to appreciate the full size.  It's huge.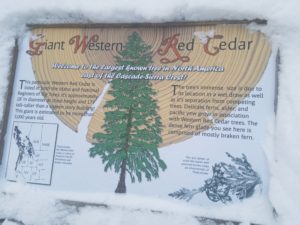 There are other trees nearby.  And when we stopped and listened, we heard… nothing.  It was beautifully silent.
The walk wasn't long, and there wasn't a lot to be done other than admire the beauty of God's creation.  But this was definitely a worthwhile trip.
We headed back to the truck, and headed out.  As the sun turned the sky shades of pink and purple, the snow crystals blinked unique patterns of Christmas lights back at our headlights.  It was a beautiful trip, made all the more fun and unique by the blanket of snow.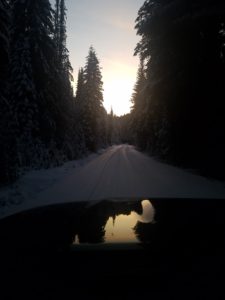 The 4runner with the Toyo Observe GSi-5 studless snows had no problems on the roads.  Thankfully, we didn't have to use any of the recovery gear we had brought.  This trip was easy… just watch the scenery and serenity of the mountains near Elk River.