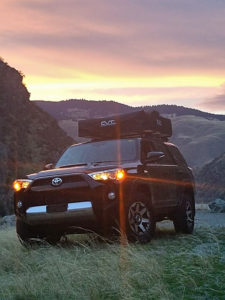 My wife's Audi Q5, as perfectly reliable as it has been, was approaching 100k miles.  In addition, she was wanting something more rugged — something we could take out to the abundant forests nearby and explore and camp.  Since we already had the Werkz Ram 1500, we didn't want another pickup.  We wanted something in the highly capable SUV realm.
We initially were looking at the Jeep Wrangler Unlimited, 2012 and up.  The off road capabilities are great, especially with the Rubicon package.  However, we could never put together quite the deal we were looking for.  And to be honest, I don't think either of us enjoyed the jeep that much.  Sure, taking the top off was fun, but it's also a pain — how often would we really remove the top?
Getting discouraged, I asked my wife to drive a used FJ Cruiser at a local Toyota dealership.  She thought it was fine, but she prefers carpeting and nicer interiors.  The FJ Cruiser is a cool rig, but she couldn't see driving it every day.  We also saw and drove a 2017 4Runner TRD Pro.  She liked the rig.  A lot.  If it had been in black or white or an exclusive 2017 color (it was Barcelona Red), we might have bought it.  It did lack two things we wanted — moonroof for her, and I wanted KDSS.  Those two options aren't available for the TRD Pro.
The moonroof is self-exlpanatory, but KDSS (Kinetic Dynamic Suspension System) requires a little more explanation.  It allows a bigger sway bar in front for on-road handing, then acts as a disconnect for off-road performance.  Here is a video that explains it more:
Though I like the Pro front end a little better, the main thing that had us considering the Pro was the insane resale.   From the ads I saw online, someone could buy a new Pro at sticker, drive it for 2 years and 40k miles, and sell it for darn near sticker again.  However, since we didn't plan on selling for many many years, we decided it was important to get exactly what we wanted.
We also considered a used Trail or used GX460.  For those who don't know, the GX460 is much like the overseas Toyota Prado, and includes a "love it or hate it" side swing rear door and v8 power in the same exact chassis as the 4Runner.  And the earlier Trail is like the current TRD Off Road package.  The problem was that we only found 1 used earlier trail with low miles and in great shape — and the interior isn't as nice as the newer ones.  We also loved the way the GX460 drove with the v8 and 6-speed automatic, but the styling was "meh" (for the early ones) to "ugh" (for the predator faced ones) and the GX460 has the Torsen center diff and no locking rear differential, limiting the off-road capabilities slightly.
As a result, we ended up buying this black 2018 Toyota 4Runner TRD Off Road Premium with KDSS and moonroof.  We also ended up buying the Cascadia Vehicle Tent (CVT) that is on the roof.  We've not had a chance to try the tent, but so far we love the 4Runner.  Future upgrades will likely include BFG KO2 tires, on some genuine TRD wheels.   We will probably upgrade to Bilsteins as well.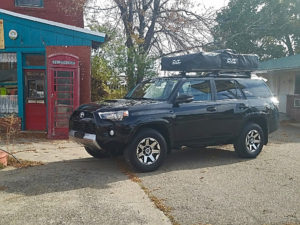 In summary, our comparison grid looked like this:
| | | | | | |
| --- | --- | --- | --- | --- | --- |
| 4Runner | TRD Pro | TRD Off Road | TRD Off Road Premium | Used Trail earlier than 2013 | Used GX460 |
| Resale | Unbelievable | Great | Great | OK | OK |
| KDSS | Not available | Available | Available | Available | Standard |
| Moonroof | Not available | Available | Available | Available | Standard |
| Leather or Fake Leather | Standard | Not available | Standard | Not available | Standard |
| Locking Rear Diff | Standard | Standard | Standard | Standard | Not available |
| Modernized interior | Standard | Standard | Standard | Not available | Standard |
| Warranty | Yes | Yes | Yes | Not likely | Not likely |
| V8 Power | Not available | Not available | Not available | Not available | Standard |
| Exterior Styling | Good | Good | Good | Good | Meh to Ugh |